Facebook Post Lands Jamestown Couple Behind Bars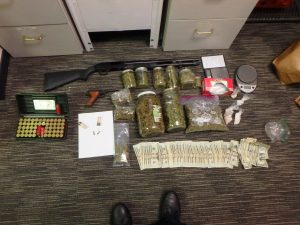 Drugs seized

View Photos
Jamestown, CA – Facebook is an online social media outlet that is known for a good place to sell items, but a Jamestown couple took it a step too far by offering weed for sale and that is not the only reason they are in trouble with the law.
While on the social network around 10:30 p.m. last night a Sonora resident was shocked to see an advertisement for marijuana and reported it to police, who set up a sting. The woman, who posted the ad, 38-year-old Malissa McCarthy, was contacted by an undercover Sonora Police Officer that set up a meeting at the Frosty restaurant along Highway 108 in Jamestown to buy some marijuana.
McCarthy, who was on probation, was actually seen in the doorway of an apartment near the restaurant with her boyfriend, 20-year-old Addam Smith, before she walked across Main Street to contact the officer. She was found to have two ounces of weed on her.
The officer then questioned Smith outside the apartment and reported that through the open front door several more ounces of marijuana could be seen inside prompting a search. It turned up two guns (shotgun and hand gun), ammunition, 27 ounces of marijuana, and 3.6 ounces of methamphetamine and some cash.
When asked about the Facebook ad, according to police, McCarthy said she did not think it was a big deal as marijuana is now legal in the state. A child was also found at the residence and was released to the custody of Child Welfare Services. The couple faces several felony drug and sales charges.