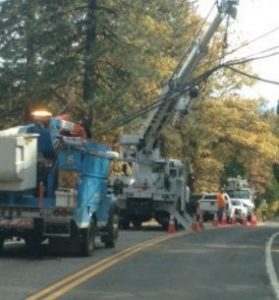 PGE outage after truck hits power lines on Kewin Mill Road

View Photos
Citing a need to improve infrastructure, following destructive wildfires, PG&E is seeking approval from state regulators to increase electricity and gas rates.
Under the proposal, starting in January, electric bills would go up by an average of $7.85 per month and gas bills by $4.25. In its filing, PG&E stated that the increase would help it tap capital markets to help pay for an estimated $28-billion in infrastructure improvements over the next four years.
PG&E also recently hired a new CEO, and made changes to its board of directors, following its Chapter 11 bankruptcy filing.
The proposal could meet resistance from the state. Governor Gavin Newsom's office has released a statement reading, "While California is working hard to reduce wildfire risk and create a sustainable energy future, PG&E is requesting massive increases in costs to ratepayers in order generate profits for investors – all while wildfire victims' claims sit in bankruptcy. The Governor strongly believes ratepayers shouldn't be on the hook for unnecessary increases as the state's process plays out."