Bullfrogs Boys Basketball Bounce Into History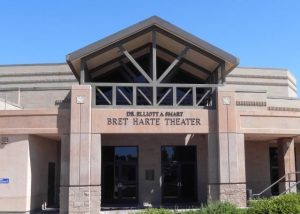 Bret Harte Theater

View Photos
The Bret Harte Bullfrogs boys varsity basketball team finished the regular season with a perfect 15-0 record in league play.
Coach Jerry Rucker was Wednesday's KVML "Newsmaker of the Day".
The only other time a Bret Hart team went 15-0 in league play was in 1984-85, under a different coach.
Ironically, that was the year that Rucker first arrived as a teacher at Bret Harte and this season is his last season as a head coach. He will remain with the school next year, as an educator.
When asked if the boys stepped up thier game because this is his last year, Rucker said, "I don't think that has anything to do with it. We've got a great team. We have some outstanding players as well and we've been minimal on our injuries. Through a little bit of luck and a lot of teamwork, we were able to achieve a perfect season".
The overall record for the Bullfrogs is 22-4.
Bret Harte (No. 2) will host the first round of Division IV playoffs at home tonight at 7PM against No. 15 Waterford.
If the Bullfrogs defeat Waterford, they will also host the second round of playoffs on Friday night.
The semifinals will take place next week and the finals will be held on March 3rd at Power Balance Pavilion (formally Arco Arena) in Sacramento.
Rucker concludes, "Our focus is one game at a time. But I will note that the '84-85 team won the only boys basketball championship in school history."
The "Newsmaker of the Day" is heard each weekday morning on AM 1450 KVML at 6:47, 7:47 and 8:47.