Snowpack Remains Well Below Average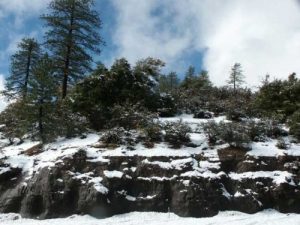 Snow In Sierra

View Photos
Sonora, CA — The Sierra Nevada Snowpack is now 37 percent of average for this time of year. The California Department of Water Resources conducted its second Sierra Nevada Snowpack survey yesterday for the winter season.
Frank Gehrke of the DWR says, "It is better than it was a month ago, but still way below average for this time of year."
DWR Director Mark Cowin adds, "We haven't received a decent number of winter storms. We have a good reservoir storage thanks to wet conditions last year, but we also need more rain and snow this winter."
The northern Sierra is 41 percent of average for the date, the central Sierra is 32 percent (includes Tuolumne and Calaveras Counties) and the southern Sierra is 42 percent.