SUV Crashes Into Sonora Motel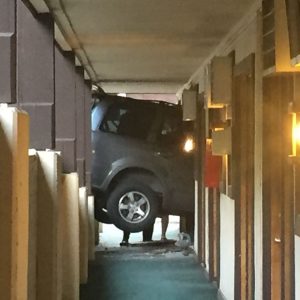 SUV crash into a motel room in Sonora
Sonora, CA – Guests at a Sonora motel were startled just after 7 p.m. when they heard a big bang and the building shook. When they ran outside to investigate, they discovered an SUV had smashed into a room.
Staffer at the Heritage Inn Yosemite/Sonora, formerly the Inns of California and located on South Washington Street, Sharon Bickell details, "Came out here and found a car inside a guest room. Fortunately there was no one inside the room, but there was a guest trapped inside the vehicle – not something you see everyday."
Another guest, who did not want to be identified, told Clarke Broadcasting he ran to vehicle and found a dazed woman behind the wheel that he helped to safety. He says it was lucky no one was in the room because the front of the vehicle was partially on the bed. Minutes later, police arrived on the scene and began questioning the woman.
Eventually, she was given a field sobriety and a breathalyzer test, which determining the woman had a blood alcohol level right above the legal limit of .08% and she was arrested for drunk driving.
Sgt. Tim Wertz, who would not yet release the woman's name, described what caused the crash, "She hit the gas instead of the brake and went forward into the building."
A tow truck arrived to pull the SUV out of the room, while motel maintenance covered the hole with plywood. There is no word on an estimated cost of damage to the building at this time.