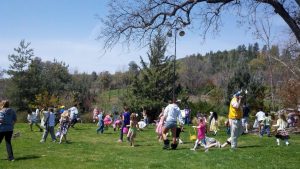 Ironstone Easter Egg Hunt

View Photos
Many events are planned this Easter weekend, plus this Saturday is the kick-off event for the upcoming Mother Lode Round-Up, the Great Steak BBQ. All the Round-Up events are listed here.
Thursday thru Saturday the Christian Heights Church will present The Road To Calvary a one hour Easter Production. Tours leave every 15 minutes starting at 7:30 pm and often sell out. Saturday the Discover Life Seventh-Day Adventist Church in Sonora is hosting "The Rescue" A live reenactment of the biblical Easter Story with a petting zoo for kids between services.
Performances of the Route 66 will wrap up at Sierra Repertory Theater's Fallon House in Columbia on Sunday.
As reported here the 40th Annual "Old Mill Run" features a 10K Run, a 2-Mile Walk, a 2 Mile Run and two Kid's Run – all to benefit the Tuolumne County Community Christmas Eve Dinner at the Mother Lode Fairgrounds in Sonora, as well as the WINGS Fund through the Sonora Area Foundation. The event listing is here.
PAWS Captive Wildlife Sanctuary will open its doors to public for its 35th Anniversary on April 20. PAWS organization rescues and cares for elephants, big cats and bears
Saturday is also the Family Fun Fish Fest at New Melones in the Tuttletown Recreation Area. Day use fees to enter will be waived and children 15 years old and under will be provided fishing poles and bait. Park rangers and volunteers will provide fishing information and assistance if needed. The Saints and Sinners Motorcycle Club will prepare a BBQ lunch for the event participants. That event listing is here.
Saturday there are also several egg hunts. At 9AM the Wildcat Ranch will host its  4th Annual Community Egg Hunt. Christian Heights Church will host an Easter Egg Hunt at 10AM sharp, at the West Side Memorial Park in Tuolumne the Easter Egg Hunt will be held at 11AM. From 11AM to 4PM visit Downtown Angels Camp Sidewalk Sale and Easter Fun. Get pictures with the Easter Bunny, enjoy an Easter Egg Grab, Easter Hat Contest, live music and more. Details are here.
Sunday there are more Easter events and services. Easter activities at Railtown 1897 State Park include meeting the Easter Bunny, egg hunts and more beginning at 9:30AM.
Sunday an Easter Celebration called "Resurrection", hosted by Creekside Community Church, will take place this Sunday at the Mother Lode Fairgrounds from 11 AM to 3 PM. There are three egg hunts for ages 0-12, food, and a raffle. There will also be an Easter Worship led by the pastor of Creekside Community Church. The event listing is here.
Columbia's Victorian Easter Celebration will feature a parade and egg hunts for children​. The costume contest includes awards for; fanciest Victorian hat, best dressed couple, lasses and lads, groups, and pets. Egg hunt times and more details are here.
In Calaveras a Community Easter Egg Hunt will be held near Big Trees Fitness and Ironstone's Easter Egg Hunt Times are 10:00 AM for children under 5, 10:30 AM for ages 6 to 8 and 11 AM for ages 9 to 12.
Lastly bring your Easter Basket to Eproson Park where the Twain Harte Rotary sponsored hunt begins at 1PM sharp. Easter Egg Hunt ages 2-12 and the egg toss is for any age.