State Republicans Dealt Blow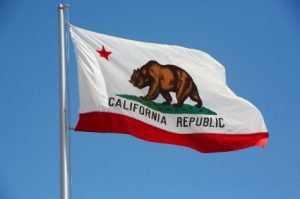 California Flag

View Photos
Sacramento, CA — The California Supreme Court has ruled that newly approved Senate boundaries should be used during this year's election, despite a proposed ballot measure calling for their elimination.
The new map was created by the California Citizen's Redistricting Commission and has been sharply criticized by Republican lawmakers. The GOP is expected to lose seats as part of redistricting, and some party leaders are pushing for a ballot initiative to have the maps scrapped.
The Associated Press reports that the high court ruled unanimously today that the new boundaries are, "clearly the most appropriate map to be used in the 2012 state Senate elections even if the proposed referendum qualifies for the ballot."
Democrats are expected to gain seats because of the state's shifting demographics. Republicans fear that the Democratic Party could gain a 2/3 majority. They would then have the ability to pass a tax increase with a party-line vote.
The lawsuit was filed by Republican activist Julie Vandermost of Orange County.
The AP reports that Peter Yao, the acting chairman of the newly formed citizens commission, called Friday's decision "a great victory for the people of California" and said it was important for the stability of the electoral process in the state.