Business Locations Available In Columbia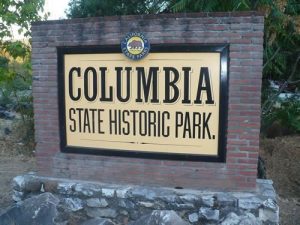 Columbia State Park - Sign

View Photos
Columbia, CA — California State Parks began accepting proposals today for three separate retail business locations in Columbia State Historic Park.
The available locations are; the coffee and sweets saloon located at 22760 Main Street, the candle and soap shop originally located at 22719 Broadway Street, and 11198 State Street.
The selected concession will enter a five year contract with an option to extend for an additional five years. Proposals will be reviewed by the California State Parks Central Valley District Concessions Specialists.
Peggy Harwell, Concessions Specialist the Central Valley District, noted some of the guidelines, "Proposals must include plans to develop, equip, operate, and maintain the historic-style specialty retail concessions in Columbia State Historic Park."
Harwell also noted that contracts will require some facility improvements to enhance visitor accessibility and at least one of the three concession proposals selected will provide a specialty food service.
More information will be available at an optional pre-proposal meeting on February 6th at 6:00 pm at Eagle Cotage, 11195 Washington Street, Columbia. The meeting will include a review of the proposal process, as well as a tour of the available facilities. The deadline for proposal submission is April 10, at 2:00 pm.
Interested parties are encouraged to download a complimentary copy of the RFP at http://www.parks.ca.gov/concessions. Contact Peggy Harwell, Concessions Specialist, at (209) 536-2917 or pharwell@parks.ca.gov for more information.