Retired CHP Officer, Reserve Deputy, Court Bailiff Al Courtright Passes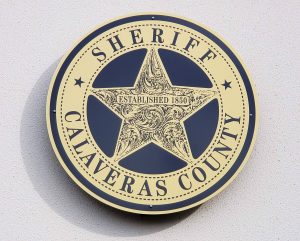 Calaveras County Sheriff Department building logo

View Photos
San Andreas, CA – The Mother Lode is mourning the sudden passing of a noted law officer with nearly 53 years under his service belt.
Calaveras County Sheriff Rick DiBasilio shares with Clarke Broadcasting that Albert "Al" Courtright, 76, was still working for the county as a bailiff when he died Sunday morning while off-duty.
"Al was the Arnold resident CHP officer for many years and he was loved and respected," the sheriff recounts. "I met Al 40 years ago when [our family] owned the Dorrington store and in my time getting to know Al, I am surprised his index finger did not fall off from shaking it at me, as I was a rambunctious young man."
DiBasilio shares that Courtright had gone out for a knee replacement earlier this year but had been back working in the courts for about the past two months, and was with other reserve deputies during Murphys Irish Day, selling hotdogs at their booth. Fondly acknowledging the two were not only were close but they often joked over how DiBasilio wound up becoming his boss. The sheriff recalls how years before that, they patrolled together as part of the County Marine Safety Unit. "I worked many days with Al on the lakes in our county…and I will always look up to Al for being the great man he is."
According to the CHP, Courtright, a Marine, began his career on July 18, 1966, assigned to the Baldwin Park area before transferring to San Andreas in 1971. He remained with the unit for 26 years, retiring from the CHP Dec. 29, 1997 to join the Calaveras County Sheriff's Department as a reserve deputy and court bailiff. He is survived by his wife Kathy; daughter Kary Ott; son Mark Courtright; daughter Rachel Crosby; nine grandchildren, seven great-grandchildren, and one great-great-grandchild.