Criminal Threats Investigation Underway At Calaveras High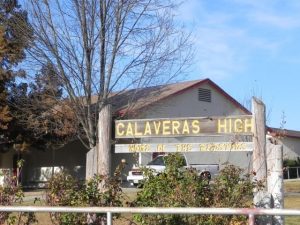 Calaveras High School

View Photos
San Andreas, CA – A 14-year-old Calaveras High School student has been arrested after allegedly making deadly threats regarding the campus a month ago, but it was only reported to administrators today.
Calaveras County Sheriff's deputies were called to the school in San Andreas at around 11 a.m. after being called by administrators who had taken steps to secure the campus, but did not lock it down, according to sheriff's spokesperson Sgt. Greg Stark, who details, "The threats that were made were to possibly cause harm to students at the school. The student was taken to the office and monitored until deputies arrived." He would not reveal whether those threats included bringing weapons to the campus.
Stark would also not divulge those who witnessed the threats and their relationship with the suspect. School officials are working with the Calaveras Unified School District to distribute an email to parents with information regarding the incident, advises Sgt. Stark. The suspects name is not being released because he is a juvenile. He could face felony criminal threat charges.
Sheriff's deputies are currently working with school staff, administration, and district officials in the ongoing investigation. Anyone with information regarding this case can call the sheriff's dispatch at (209) 754-6500 or the anonymous tip line at (209) 754-6030.