Supervisors Push For Fire Resiliency Community Collaboration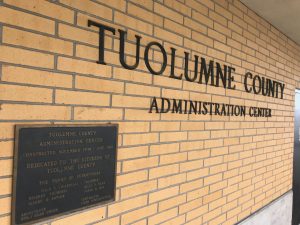 Tuolumne County Administration Building

View Photos
Sonora, CA — The Tuolumne County Supervisors held a monthly discussion related to the new fire initiative, and one of the items that came up was the desire to find ways to get more community members involved.
At the board meeting yesterday, OES Coordinator Liz Peterson briefed the supervisors about the latest efforts to prepare ahead of the upcoming summer fire season. She noted that around 800 people attended recent town hall style meetings held throughout various communities. The events focused on items like defensible space and evacuations. In addition, a task force, led by supervisor Sherri Brennan, recently met, and one of the items was to assess risks in a single community, Ponderosa Hills, and at later meetings the group will talk about possible actions to improve fire resiliency there. Some of those steps could then be taken in other fire prone communities.
In addition, roadway chipping efforts are underway, thanks to a $1.1-million grant. Clearing efforts recently concluded along Priest Coulterville Road, and next week they will focus on Tuolumne Road.
Supervisor Brennan noted that many in the community wish to be a part of the solution, and proposed creating an advisory group, possibly being comprised of a representative from each supervisorial district, to review projects and give input. She indicated that there are many retired professionals that could provide valuable information. Other supervisors praised the idea, and staff was directed to bring this item back at a future meeting to have more discussion.
Board Chair Karl Rodefer added that, in addition, he would like the county to promote the idea of creating firewise groups in various communities, similar to a neighborhood watch program. He noted that there are already similar efforts in Pine Mountain Lake and Northern Columbia. He also mentioned that Governor Gavin Newsom recently declared a state emergency related to fire, and Rodefer believes that California will be trying to secure related federal funding. He said the county needs to be prepared to act, if grant funding becomes available, as fire related projects are costly.