Twist On Distracted Driving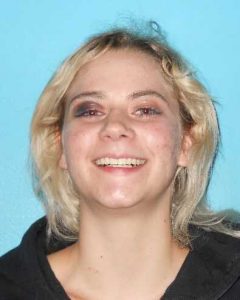 Karly Moore

View Photos
Sonora, CA — No cell phone was involved; instead a driver had to fight off a passenger in his vehicle that bit his ear while he was heading down Highway 108 in Sonora.
Tuolumne County Sheriff's Deputies recently responded to assist a CHP officer who was out with a disabled vehicle on the shoulder of the highway near the Stockton Street intersection. Upon their arrival, the male driver reported that his passenger, 21-year-old Karly Moore of Stockton, kicked and punched him until she ultimately bit him on the right ear, causing him to swerve onto the right-side of the road. As a result, the vehicle's right front wheel sustained major damage rendering it undriveable.
Sheriff's spokesperson Sgt. Andres Benson reports that did not deter Moore, who continued to assault the victim up until a CHP officer arrived on the scene.  The victim sustained two large lumps on his forehead and bite marks to his ear. Moore was subsequently arrested for spousal abuse with a bail of $35,000.