Brown Defends High Speed Rail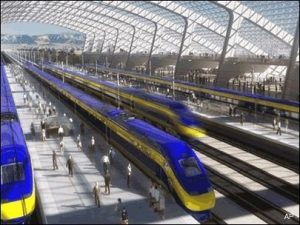 HSR

View Photos
Sacramento, CA — Despite financial issues, Governor Jerry Brown is pledging support for the state's high speed rail project.
The Associated Press reports that Brown defended the project Friday, a day after the rail authority's director and board chairman resigned. Brown's appointee, Dan Richard, is expected to take over.
Brown said he would not join the "defeatist crowd" that is trying to kill the $98 billion project. Brown says the plan needs to be revamped. The cost has nearly doubled since a high speed rail bond measure was approved by California voters in 2006. The first stretch would connect the Los Angeles and San Francisco Bay areas.