4-H Community Dinner Adds Canned Food Drive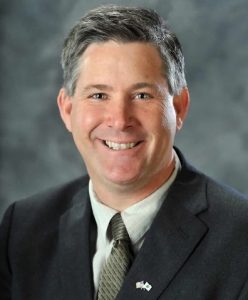 Ron Hamilton

View Photos
The 39th annual 4-H Community Dinner and Cake Auction will be held at the Motherlode Fairgrounds this Saturday from 4 to 7pm.
Ron Hamilton, 4-H Council President, and his son Danny Hamilton, were both Friday's KVML "Newsmaker of the Day".
The dinner will include bar-b-que tri-tip, a baked potato, salad, roll and dessert.
Creative baked cakes will be on display until 5:30 p.m., when the auction begins.
$12 adult tickets will be made available at the door. The price is $8 for children under the age of twelve and for senior citizens.
New this year is a community service project, chaired by fifteen year old Danny Hamilton, that will help Meals-On-Wheels during severe or inclement weather.
Danny (and others) will be assembling "Angel Boxes" that will contain non-perishable food for two people for three days. The Angel Boxes will be distributed to current Meals-On-Wheels customers and are to be used when bad weather prohibits regular delivery.
Donations are needed and each meal box contains:
– (1) Chicken Breast, packed in water = 13 oz. Can
– (1) Light Chunk Tuna, packed in water = 6 oz. Can
– (1) Canned Entree (Beef Stew, Ravioli, Mild Chili with Meat, etc.) = 15 oz. Can
– (1) Hunts Spaghetti Sauce with Meat = 26.5 oz. Can
– (1) Dry Pasta, Spaghetti or other = 1 lb. Package
– (1) Mashed Potatoes, Instant = 13 oz. Box
– (1) Brown Rice = 1 lb. Bag
– (2) Vegetables, Canned (Corn, Green Beans, Mixed, etc.) = 15 oz.
– (2) Bean Entree (Pork 'n Beans, Baked, Refried, Ranch, etc.) = 15 oz. Cans
– (1) Macaroni & Cheese = 7.25 oz. Box
– (2) Top Ramen Noodles = Individual Packages
Note: Cup of Noodles is too large and will not fit in our meal boxes
– (3) Canned Soup (Tomato, Chicken Noodle or Rice, Cream Soups, etc.) = 10.5 oz. Cans
– (1) Peanut Butter (Smooth Style Only) = 18 oz. Plastic Jar,
– (1) Crackers = Small Box or 2 Sleeves of Saltines, Ritz, etc.
– (1) Oatmeal = 18 oz. Canister
– (1) Cookies = Small Package or Box
– (2) Canned Fruit (Peaches, Pears, Apricots, Plums, Fruit Cocktail, etc.) = 15 oz. Cans
– (1) JELLO, any flavor = Small Box
– (2) Microwave Popcorn = Individual Packages
All donated food items brought to the Motherlode Fairgrounds on Saturday must be in sealed, unopened cans, boxes or plastic packages. They cannot accept glass containers or sizes larger than listed above. They also cannot accept expired, dented or unlabeled food items and they can not accept perishables.
The "Newsmaker of the Day" is heard each weekday morning on AM 1450 KVML at 6:47, 7:47 and 8:47pm.