Supervisors Hear Positive Update On Kewin Mill Road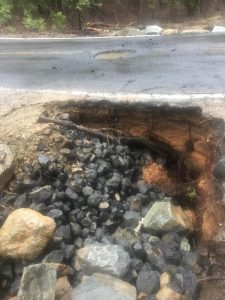 Kewin Mill Road storm damage

View Photos
Sonora, CA — The Tuolumne County Community Resources Agency is anticipating that emergency repairs on Kewin Mill Road will be completed within the next 10-12 days.
Extensive storm damage occurred on the road during the week of February 25, north of Belleview Elementary School. A $535,000 emergency contract was awarded to Njirch & Sons on March 19 to make needed repairs.
CRA Associate Engineer Blossom Scott-Heim reported to the board this morning, "By the end of the day tomorrow we expect the third and final culvert to be fully installed. Then, we will work on raising the roadway, and paving. I'm expecting about 10-12 more days of work and we will be complete."
Travelers in the area were earlier advised to prepare for delays of around 20 minutes during the construction hours. The supervisors voted unanimously to continue an emergency action related to Kewin Mill Road that allows for the CRA to fast-track the work.