Heavy Snow And Donnell Fire Keep Many Forest Roads Closed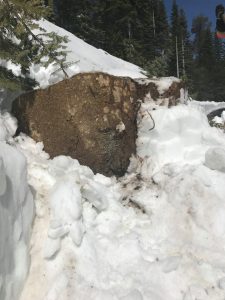 Snow Off Highway 108 near Eagle Meadows

View Photos
Tuolumne County, CA — While April 15 is traditionally the day when seasonal roads reopen in the Stanislaus National Forest, many are still closed.
Forest Supervisor Jason Kuiken says, "We received a significant amount of snow this winter and much of it still hasn't melted. Our reports tell of as much as 20 feet of snow on some of our high country roads. It will take time for all or them to reopen."
To view a list of seasonal roads, with tentative opening dates, click here.
Many in the community are also curious about when the roads and campgrounds will reopen in the Donnell Fire footprint. Kuiken adds, "We are studying the analysis to ensure locations within the fire's footprint are safe to access. As soon as we discuss the report's findings with our county and local partners we will let visitors know which areas will be reopened and when."
The most recent Forest Closure Order for the Donnell Fire area, signed on December 21, is currently set to expire on May 31st. You can view the document by clicking here.
Many Forest Service roads are closed throughout the winter months because they are susceptible to damage when wet.
Kuiken indicates that the planned opening dates are always tentative. "Our crews are beginning their inspections and we may find some damage that will require repairs before a road is passable."