First Official Snowpack Survey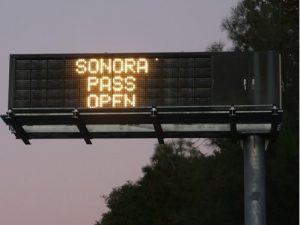 Sonora Pass Sign

View Photos
Sacramento, CA — It continues to be a dry winter across the Sierra Nevada.
The Department of Water Resources first manual snowpack survey of the year Tuesday showed that the Sierra Nevada snowpack water content level is only 19 percent of average for early January. Despite the dry weather, state officials are not yet panicking. "Fortunately, we have most of winter ahead of us, and our reservoir storage is good," says DWR Director Mark Cowin.
The Northern Sierra Nevada is 21 percent of average, the central is 13 percent and the southern is 26 percent of average.
Mountain snow that melts into reservoirs, streams and aquifers in the spring and summer provides approximately one-third of the water for California's households, farms and industries.
Because of the dry winter, Highway 108 Sonora Pass, Highway 4 Ebbetts Pass and Highway 120 Tioga Pass are still open.