Sonora Council To Discuss Road Funding And Defensible Space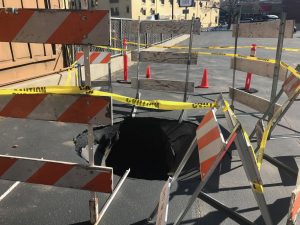 Sinkhole Following Flooding In Sonora

View Photos
Sonora, CA — The SB 1 gas tax increase is expected to bring the City of Sonora $77,000 in additional revenue this year, and $81,100 next fiscal year.
Given the storm damage that occurred last month, the city staff is recommending utilizing the funding for both years to help repair the city's storm drain. In future years, the city plans to use the money for street overlay projects.
Also tonight, the city will review a proposed defensible space ordinance. It would be designed to make city rules nearly identical to CAL Fire's regulations. It would require residents to maintain 30 ft. of defensible space around a building or structure, and a reduced fuel zone between 30 to 100 feet. The city currently has stricter defensible space guidelines than CAL Fire, but they have been difficult to enforce.
In addition, the city leaders will hear an annual report from Lisa Mayo, Executive Director of the Tuolumne County Visitors Bureau. Today's meeting at Sonora City Hall starts at 5pm.