Sonora Loses Great Horseman, Husband, Father And Philanthropist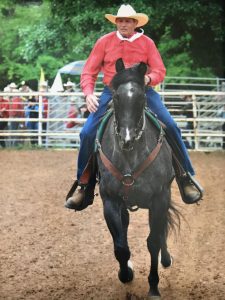 Vern Gerdau doing what he loved

View Photos
Sonora, CA — A former 22 year Tuolumne County Sheriff's Posse Member and 2016 Grand Marshal of the Mother Lode Round-up Parade, Vernon Ralph Gerdau has passed away at the age of 74.
Known as Vern to most, his family says he was the best grandpa and dad, as noted by his son Bryan. While his wife of 42 years, Debie, calls him the perfect husband. Reflecting on those years and smiling, she states, "We just always had fun. We rode horses for 35 years. He was still riding."  Laughing, she adds, "He was supposed to ride this week with, I call them his cronies from the posse, our very good friends."
This past Monday night Vern had a stroke and died on Wednesday. Proudly and with admiration Debie shared, "He just loved life. He was always in a good mood. He never had an unkind word to say about anybody." With gratitude she adds, "He was one in a million and I got him."
The couple moved to Sonora some 25 years ago from Mountain View and Vern took a job in 1990 with Mother Lode Motors, before retiring after 17 years. One of Vern's proudest moments, his family notes, was when he was picked to be the Grand Marshal of the Roundup Parade three years ago, as documented along with further details about his life reported here.
"My dad was just a rock," says Bryan, who recounted his father's adoration for the community. "He loved Tuolumne County. It was so important to him. Every time we'd go up to the high country he'd say, 'Beautiful country.' He loved Sonora."
A Celebration of his Life will be held at 4 p.m. on Friday, April 19th at the Sonora Fairgrounds John Muir Building located at 220 Southgate Drive in Sonora.
Regarding Vern's legacy, Debie quotes his words to live by: "Love everybody for their differences and never hold a grudge because life is too short"