Calaveras County Settles With Resort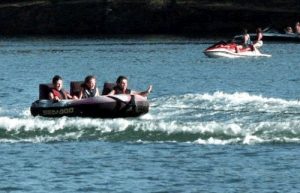 Lake Tulloch Recreation

View Photos
San Andreas, CA — Calaveras County Board of Supervisors today voted to approve a settlement agreement related to a lawsuit filed by the county against the Resort at Lake Tulloch. In the lawsuit the county argued events held by the resort sometimes draw 3000-4000 visitors and violate noise and other ordinances in the county. The settlement calls for the resort to comply with all Special Use Permit requirements recently implemented by the county. Those permits involve the size of the event, parking and whether security is needed for an event.

Board Chairwoman Merita Callaway says, "It's a good thing for both the county and the resort. It saved them both a lot of time and money. In the settlement, both the county and the resort agree to pay their own attorney costs."
Callaway says the resort will now have to agree to the terms, but she say their attorney is in favor of the settlement. If the settlement is not approved by the resort, the case is scheduled to go to trial in December.