Prescribed Burning Planned In Groveland Ranger District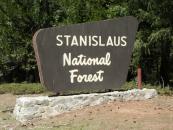 Stanislaus National Forest Sign

View Photos
Groveland, CA — After taking a break due to the wet conditions over recent months, the Stanislaus National Forest is planning to continue its China Ridge Understory Burn in the Groveland Ranger District.
The site is located adjacent to the Groveland Ranger District Office and follows China Ridge south to Greeley Hill Road. Over the course of five years, the plan is to treat 1,905 acres with low intensity fire. When weather allows, about 50 acres are burned on a daily basis.
Forest Service Spokesperson Diana Fredlund says, "The bottom line is that this is designed to help us restore some of the health of the forest, and it reduces some of the fuels that are on the floor of the forest. It helps reduce some of the risk of uncontrolled, really damaging, wildland fires."
Starting later this month smoke may be visible from Highway 120 and Smith Station Road due to the project.