Red Flag Warning Issued For Mother Lode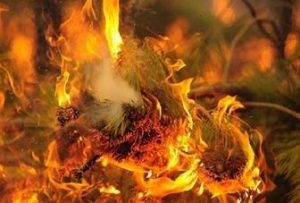 Generic Fire Photo

View Photos
The National Weather Service has issued a Red Flag Warning for the Stanislaus National Forest and the southern Mother Lode from 1000 to 3000 feet through 11 PM tonight.

The southern Mother Lode includes Tuolumne and Calaveras counties. A Red Flag Warning is also known as a Fire Weather Warning.
Thunderstorms with substanial lightning are expected to continue into the evening. The storms are expected to be generally wet but some strikes are likely outside of rain areas.
Lightning strikes may create new fire starts. Dry conditions and locally gusty winds up to 35 mph (near thunderstorm activity) could cause any fire that develops to spread rapidly.
The storms in the Sierra Nevada are expected to extend over the Mother Lode by this evening.
Thunderstoms and showers could linger over the Sierra into early Thursday.
Thursday and Friday may see an even better chance for thunderstorm activity.
Any thunderstorm could produce dangerous cloud-to-ground lightning along with strong gusty winds, brief heavy rain and hail.
If you have outdoor plans for the next few days in the Sierra Nevada, be prepared. Campers, hikers and boaters should keep an eye on the sky and if threatening weather approaches, seek safe shelter or harbor.
The Excessive Heat Warning for the Northern San Joaquin Valley, the Mother Lode and the Sierra Nevada below 4500 feet continues through Thursday 8 PM.
High temperatures from the central valley to the Sierra Nevada (including Yosemite Valley) range from 100 to 112. Overnight lows in the central valley and the Mother Lode range from the seventies to the low eighties.
Children, the elderly and people with chronic ailments are the most susceptible to heat-related illness. Heat exhaustion, cramps or in extreme cases heat stroke can result from prolonged exposure to these conditions. Pets and livestock are also vulnerable to heat illness and should be cared for properly.
Remember to drink plenty of fluids, stay in an air-conditioned rooom, stay out of the sun, check up on relatives and neighbors who might need assistance and reduce outdoor exposure.