Plow Outs Underway On Mother Lode Mountain Passes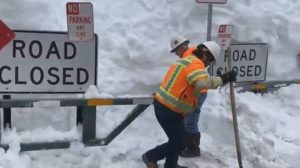 Caltrans crew opens closure gate to begin seasonal snow removal at Hwy 4 Ebbetts Pass April 9 2019

View Photos
Sonora, CA – Although lingering storms set snow removal plans back a few days, Caltrans crews are now tackling the task of deep dig outs at Ebbetts and Sonora passes.
On Tuesday, crews began their incremental process of plowing, blowing and scraping behind the gate on Highway 4 at Lake Alpine Sno-Park.
As they swung open the metal closure they encountered a snow wall about 15 feet high, although they expect to encounter much deeper drifts as the work, currently in progress weekdays from 6 a.m. until 4 p.m., continues. As one might expect, the operations are limiting snowmobile access.
Early Thursday, officials reported that slow progress was continuing along Highway 108, although as Caltrans Long Barn crew approached Eagle Meadows Road, it encountered fallen rocks large enough that "Boulder Buster" operations are necessary to break them into small enough pieces for hauling away.
The agency indicates that this added chore might delay the crew from its goal of clearing the highway to the Eagle Meadows gate by the beginning of the weekend. Hours of snow removal operations on Highway 108 are also Monday through Friday from 6 a.m. until 4 p.m.
In addition to clearing away snow, preparing the passes for motorists also involves cleaning plugged drains, replacing downed signs, repairing and sealing pavement cracks and restriping the roadways.
Officials at this point are optimistic, barring unforeseen conditions or circumstances, that both passes will be ready to reopen on or before Friday, May 24, in time for the Memorial Day Weekend holiday.
To view Caltrans images of operations underway, click into the image box slideshow.