April Events In The Mother Lode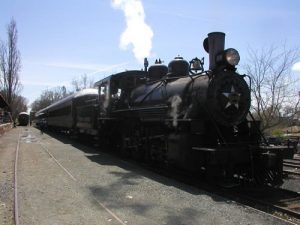 Jamestown, CA

View Photos
The second weekend in April is full of events. Railtown 1897 State Historic Park is open and hosting two weekends of special daily Wildflower Train Rides. An extraordinary wildflower season is expected this year, and Railtown, California State Parks, and the California State Railroad Museum Foundation will provide an informative naturalist presentation at 2:30 PM. The presentation about the wildflowers of California's Sierra Nevada foothills will conclude before the prompt 3 PM train departure from the Depot. More information is in our event listing here.
Columbia Elementary School is hosting a color run Saturday morning, registration is from 8 to 8:45 AM the 5K run starts at 9:00 AM. The event seeks to "promote health and happiness by bringing the community together to raise money for school field trips, activities and athletics." More details are here.
Second Saturday Art Night, put on by Sonora Chamber of Commerce and the 2nd Saturday Art Night Committee features artwork in several of the local galleries, live music, shopping and dining downtown later than usual from 5:00-8:00 PM. Details are here.
This Saturday is the last of the Fire Safety And Evacuation Preparedness meetings. As reported here several meetings across the area were scheduled for the community to attend and learn more about fire safety and evacuation preparedness. The last meeting will be held at 9AM in Columbia College's Dogwood Building.
For extra excitement on Saturday check out the RJSD MotorShow in Calaveras. There are two Children's Easter parties this weekend one at Ebbetts Pass Moose Lodge in White Pines and one at the Sonora Moose Family Center. Easter is next weekend on April 21.
The annual Saturday afternoon  TWIST Tea will be held at the Tuolumne Memorial Hall.
Saturday evening the annual Give Someone a Chance "Italian Nights" Fundraiser for the Homeless will be held at the Sonora Elks Lodge. Details are here.
Saturday at sunset a hike is scheduled at New Melones Lake Visitor Center called Painted Pollinator.
On Sunday there will be a Chilli Cook off in Mountain Ranch that is a fundraiser for their 4-H club. There will be a $100 cash prize and trophies for the Chili and the horseshoe tournament, plus a petting zoo and educational materials about member's projects. A bake sale, dessert auction, silent auction and snack bar will be available as well as various vendors from the community. The event details are here.
Sunday is also the last of the Ovation Concerts in Angels Camp at Bret Harte's Dr. Elliott A. Smart Performing Arts Center.
Next weekend is Easter and the Kick-off event for the upcoming Round-Up as listed here.