Angels Camp Native Dillashaw Receives Two Year UFC Suspension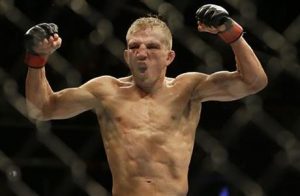 T.J. Dillashaw Defends Title

View Photos
Former UFC bantamweight champion TJ Dillashaw is prohibited from returning to the octagon for two years after testing positive for Recombinant Human Erythropoietin.
The banned substance is a synthetic hormone used to stimulate the body's production of red blood cells, thereby increasing oxygen transport, and aerobic power. It gives athletes an extra boost of endurance. US Anti-Doping Agency CEO Travis Tygart states, "We all know the pressures to win at all levels of all sport are real and intense. It is exactly why strong anti-doping efforts are necessary."
The sanction is effective the date the test sample was collected, meaning that he will be eligible to fight again on January 18, 2021. The US Anti-Doping Agency reports that Dillashaw has accepted the penalty, however, he has not issued any statements in response.