Restructured State Economic Program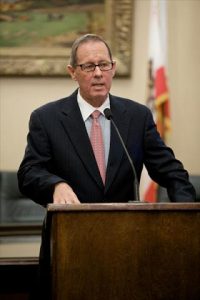 Senator Tom Berryhill

View Photos
Sacramento, CA — California Lawmakers have restructured a program that Governor Jerry Brown has called "wasteful and ineffective."
A couple of years ago Governor Brown proposed eliminating the state's $750 million Enterprise Zone Program which provides economic incentives to struggling areas of the state. The proposal was panned by many state business groups. AB 93, passed this week, will redirect some of the funds to other economic programs, and tighten the restrictions for hiring credits.
Mother Lode District 14 Senator Tom Berryhill had been critical of early drafts of the legislation related to cutting or scaling back Enterprise Zones. "Negotiations with the Governor and leadership have given us a better bill," Berryhill says. "Not a perfect bill, but a much better one for our communities and business."
Under AB 93, most employers would now only be allowed to receive hiring credits if they pay 150 percent of the minimum wage. A new program as part of AB 93 is the creation of a sales tax exemption for manufacturing and bio-research companies.
The legislation passed both the Assembly and Senate this week and now moves to the Governor's desk for his approval.