Vote Ahead On A New Review Committee To Deal With The Dome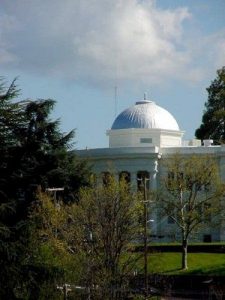 Sonora, CA

View Photos
Sonora, CA — At this week's meeting of the Sonora Union High School District trustees, a discussion about possible next steps for the district-owned Dome property resulted in a board action.
The trustees decided they would add a May meeting agenda item to formally vote on whether the district will go about setting up another 7-11 committee and task it with reviewing all of the district's property located around the historic and iconic building as well as the parcel containing the structure itself. The board held a "next steps" discussion at its Tuesday meeting at the request of several people seeking to preserve the Dome rather than letting it continue languishing into an uncertain future.
As we reported here, Superintendent Dr. Mark Miller maintains that without considering all of the land as potential surplus that could be sold off in a larger chunk, there is low likelihood selling the facility, which has very limited parking. With Sonora Arts' recent relocation to a downtown space within Sonora Inn and the public radio station formerly located in the Dome now operating out of a portable building elsewhere, Miller reports that the Dome property is now vacant and not generating any income for the district.
Should an eventual sale of the 25-acre holding that includes the Dome and surrounding district-owned properties, Miller confides that several options are being bandied about for relocating the district's current facilities; notably the alt ed programs and sports field.
He adds if the board votes to establish a new 7-11 committee, it would likely not formally get underway until the beginning of the next school year and would optimally include one or more persons with a professional understanding of local real estate values.
Currently, there is a temporary restraining order on the sale involving part of another district-owned property, the Wildcat Ranch, for which the district is currently in escrow with the nonprofit Park Foundation, which plans to create community recreation facilities there. The district is in court again with the plaintiffs, the Tuolumne County Farm Bureau, this Friday at 11 a.m.