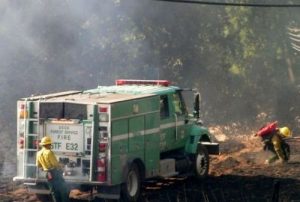 Forest Service Fire Truck

View Photos
Sonora, CA – The Forest Service restricts fires for high hazard areas early this year. Forest Officials say fires, like the Carstens Wildfire burning in Mariposa County which has scorched nearly 2.5 miles of vegetation and threatened hundreds of homes, are one reason the restrictions are being ordered. Due to the high fire danger the Forest Service is enacting temporary fire restrictions in High Hazard Areas of the Stanislaus National Forest starting today.
Forest spokesperson Jerry Snyder says, "This is very early on in the season. Last year, we didn't go into fire restrictions until August so you can see we are very concerned about the dry conditions."
The fire restriction prohibits campfires, briquette barbecues, and smoking outside developed campgrounds in designated Moderate Hazard Areas of the Forest. Welding and blasting also are prohibited, except by special permit.
Forest Supervisor Susan Skalski noted, "A low snow pack, drying winds and recent hot temperatures have caused tinder-dry conditions in the forest and provided ready fuels for possible wildfires. This Forest Order serves as an extra measure to help reduce the potential for large and damaging wildfires. We are asking the public's cooperation in helping us prevent destructive fires before they start."
Beginning today, the following restrictions are in effect by Forest Order in designated Moderate Hazard Areas on the Groveland, Mi-Wok, Summit, and Calaveras Ranger Districts of the Stanislaus National Forest:
Campfires: Building, maintaining, attending or using a fire, campfire, (including briquette type barbecue), or stove fire is prohibited, except within developed recreation sites. Persons with a valid California Campfire Permit may use a portable stove or lantern that uses gas, jellied petroleum, or pressurized liquid fuel.
Smoking: Smoking is prohibited, except within an enclosed vehicle or building, a developed recreation site, or while stopped in an area at least three feet in diameter that is barren or cleared of all flammable material.
Welding: Operating acetylene or other torch with an open flame is prohibited, except by permit. Explosives: Using an explosive is prohibited, except by permit.
Note: The strip of National Forest land in the Moore Creek Campground area of the Calaveras Ranger District, along the south shore of the Mokelumne River and adjacent to Salt Springs Reservoir, is administered by the Eldorado National Forest (NF).
Violators can face a fine of not more than $5,000 for an individual or $10,000 for an organization or imprisonment for not more than six months, or both for breaking these restrictions. These temporary fire restrictions will remain in effect until the end of the 2013 fire season unless Forest Officials lift the order.