Traffic Stop Nets Sizable Meth Bust And Loaded Weapon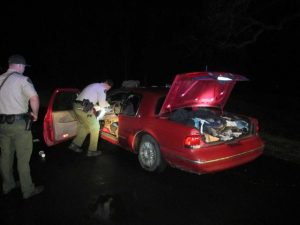 Salter arrest scene

View Photos
Sonora, CA – After being pulled over for a brake light not working, a Sonora man refused to get out of the vehicle and what was found inside was probably the reason why.
The traffic stop of a Mercury Cougar was made early this morning on Tuolumne Road in Sonora.  A Tuolumne County Sheriff's Deputy ordered the driver to get out of the car, but the man refused. Sheriff's spokesperson Sgt. Andreas Benson details, "It took about two or three times to get him to come out."
A records check determined that behind the wheel was 36-year-old Brandon Salter who was a wanted man already on probation. Salter finally complied and revealed to deputies that he had a loaded gun in his car. "He knew the jig was up, so he admitted to having a sawed off shotgun in the backpack on the front passenger's seat," revealed Sgt. Benson.
The search also turned up several individual baggies containing over 34 grams of methamphetamine, ammunition, drug paraphernalia and drug packaging. Salter was subsequently taken into custody for transportation and sales of drugs. He also faces charges of carrying a concealed weapon in a vehicle, having a loaded firearm with intent to commit a felony, possessing a controlled substance while armed with a loaded firearm, felon having a firearm, manufacturing a short barreled rifle/shotgun, and possession and transportation of a controlled.