Sonora Offering Incentive To Clear Defensible Space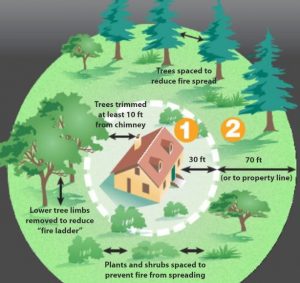 CalFire Defensible Space

View Photos
Sonora, CA — Ahead of the summer fire season, the City of Sonora is encouraging residents to act now to clear the required defensible space around properties.
The city is teaming up with CAL Sierra Waste Management to offer special "Green Waste Disposal Days" this Saturday, April 13, and Saturday, April 27, at the CAL Sierra Waste Management facility at 14909 Camage Avenue.
City of Sonora Fire Chief Aimee New says creating defensible space is critical ahead of the upcoming summer season. In relation to the green waste event, she says, "They can drop off grass clippings, leaves, pine needles, tree trimmings, brush, and their dead plants for a nominal fee of $1 per cubic yard."
The special $1 certificates are available at Sonora City Hall and the Sonora Fire Department, or they can be found online by clicking here. Upon dropping off waste, you will also need to provide identification verifying that you are a city resident.
Some of the things that cannot be dropped off include waste, liquids, trash, plastic bags, glass, metal, wire, pet waste, tree stumps and palm trees.
The hours during the upcoming events are 9am-noon and 1pm-3:30pm.
We also checked in with Tuolumne County officials to see if there is a similar type event for residents in unincorporated areas outside the city limits. The Air Pollution Control District reports residents can receive up to four free green waste vouchers over the next couple of months and each allows for the dumping of one cubic yard of green waste. For more information on the county's program, click here, and scroll to the bottom of the page.