Pitbull Added To Black Oak Concert Lineup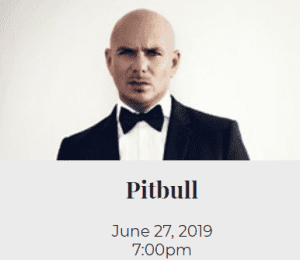 Pitbull

View Photos
Tuolumne, CA — There are now eight shows on the schedule for the 2019 Black Oak Concert Series at the Westside Pavilion.
The latest addition is rapper, producer and songwriter, Pitbull. The 2015 Grammy Award Winner, known by the nickname "Mr. Worldwide," will perform in Tuolumne on Thursday, June 27, at 7pm.
There will be a wide mix of musical genres over the summer, as other acts previously announced include Midland, Lee Brice, Chris Young, Snoop Dogg and Friends, Sublime with Rome, Pat Benatar (with Neil Giraldo and Melissa Etheridge) and Bush (along with Live). Click here to view the lineup, with dates, and ticket information.
Black Oak Casino Resort Director of Operations, BJ Nelson, says, "The lineup for this year is huge. We are really excited about the level of talent we are bringing up here. If you look at the caliber of the artists, and the caliber of the venues those artists are playing, we are on par with any of the major venues in California at this point."
Nelson also hints that a ninth show for the series will likely be announced early next week.