Father's Day Weekend Events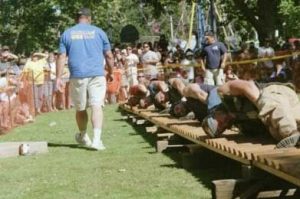 Tuolumne Lumber Jubilee

View Photos
This year is the 64th Tuolumne Lumber Jubilee. The four day event will continue through Sunday at the Tuolumne Memorial Park in Tuolumne. The celebration includes; logging contests, tug-of-war, Queen Coronation, vendors, carnival, parade, kid's games, hot dog eating contest, arm wrestling, and live music. For more details go to the event listing 64th Tuolumne Lumber Jubilee.
Columbia Airport Appreciation Day begins at 9am at the Columbia Airport.
Admission is free more details are in the event listing and in the News Story "Airport Appreciation Day."
Also on Saturday the Tuolumne County 4-H Livestock Field Day begins at 9am. The free open to the public event is for anyone interested in seeing and learning more about livestock and/or the 4-H program. Contact information is in the Livestock Field Day event listing.
The 21st Annual Charity Golf Classic benefiting Lions Eye and Hearing Services and many other Community Services. The Shotgun Start is at 1PM. Full details are here.
Several other fundraisers are on the list of Saturday events.
Tuolumne County Recreation Department's Sonora Tiny Tots Preschool program is sponsoring "Touch a Truck" at the Standard Park Sports Complex. Beginning at 10am kids can see a variety of different fire trucks, construction equipment, buses, law enforcement vehicles, ambulances and more. There will be food, face painting, and fun crafts, admission is $3, adults and children under 2 get in for free. Contact information is in the event listing.
Bone Appetito hosted by Friends of the Animal Community (FOAC) begins at 5:00pm on Saturday. More about the fundraiser is in the Bone Appetito event listing.
Glitter, Gatsby and Gangsters begins at 6pm at the Hotel Leger in Mokelumne Hill. The Calaveras Arts Council hosts event with dancing to the big band music, costume judging, and auctions. For more view the "Glitter, Gatsby and Gangsters" listing.
Sunday, for Father's Day, Railtown 1897 is open and the Columbia Cruise Antique Car Show starts at 9am. Pre-1972 antique cars and trucks will be on display at Columbia State Historic Park parked along Main Street. More details are in the event listing "Columbia Cruise Antique Car Show."