Mother Lode Juvenile Detention Facility: Two Years Later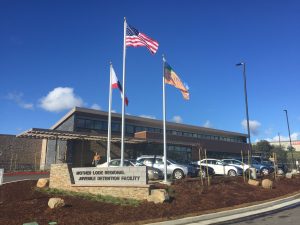 Mother Lode Regional Juvenile Detention Facility

View Photos
Sonora, CA — It was two years ago this week that the Mother Lode Regional Juvenile Detention Facility opened, and Clarke Broadcasting requested the latest statistics related to the youth inmate population.
Chief Probation Officer Linda Downey reports that there have been 92 bookings over the past 12 months, 80 from Tuolumne County, seven from Calaveras, three from Amador and two from Mariposa.
The average length of stay is 51 days, the average daily population is 8.4 youth, the highest on a given day was 14, and the lowest was 5.
Same as one year ago, there are 14.5 full-time equivalent employees (one superintendent, 11 juvenile correctional officers, two probation aides and a half-time behavioral health technician.
The facility's expenses during fiscal year 2017/18 totaled $1.4-million. This year the budget is $1.7-million, but Probation Chief Downey notes that there are anticipated revenues of $202,000, making the net cost to the county, $1.5-million. The Juvenile Hall accounts for just over two-percent of the county's general fund budget.
Speaking about the facility's impact, she says, "We take youth who are broken, angry, hurting, abandoned, sick, drug addicted, criminally oriented, impulsive, reckless, suicidal, self-injurious, jaded, credit deficient, emotionally damaged, and alone….and tell them they are worth something….that they are precious assets….that their families and communities need them and will not give up on them."
She adds that the center offers programs designed to reduce recidivism and promote positive change. They address aspects like impulse control, anger management, emotional regulation, substance abuse, PTSD and self-care.
Local volunteers play a big part in the facility. For example, there are 19 mentors who come weekly to meet with inmates from the group Hidden Treasures, which has a board of directors made up of members from local churches. The group received some of its funding via a grant from Sonora Area Foundation.
Also, two retired volunteer librarians maintain an onsite library, a representative from 4-H does agricultural activities, a Master Gardener helps lead projects, a guitarist does weekly music lessons, a retired mathematics professor provides 12 hours of tutoring weekly, 10 local restaurants provide special meals, a volunteer cosmetologist does monthly haircuts, a local dentist and an orthodontist donate time to treat severe dental issues, and a local artist donates time and supplies.
The Mother Lode Juvenile Detention Facility was the first major project completed at the Law and Justice Center property off Old Wards Ferry Road. Construction is well underway on the $39-million Tuolumne County Jail and $65-million Courthouse.