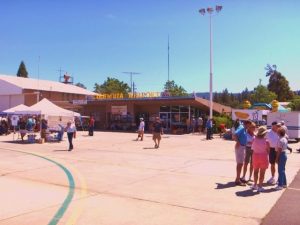 Columbia Airport

View Photos
What used to be known as the Columbia Father's Day Fly-In has this year become "Airport Appreciation Day".
Jim Thomas, Columbia Airport Manager, was Thursday's KVML "Newsmaker of the Day".
The reason for the change is year is likely related to the federal sequestor. Although, according to the FAA, they are simply having "budget issues and will not pay to staff the temporary tower as they have in the past".
The insurance for Tuolumne County to operate a temporary tower was prohibitive, so therefore the runway will not be closed down for various air shows, races and demonstrations.
However, Thomas is expecting up to 100 various types of planes to fly-in this weekend and those planes will be on display for the public to see up-close and personal.
These planes could include several warbirds (P-51, T-6, T-28 and T-34).
Additionally, airplane rides will be given in a Cessna 172 ($45), a Stearman Biplane ($100 or $85 for fathers) and a Vintage Twin Beech ($60).
The nice bonus this year for the general public, is that both the parking and the admission is free.
The hours run from 9 AM through 4 PM.
Boy Scout Troop 570 will serve breakfast for $7 per person at the Columbia Airport Campground from 7 AM to 11 AM. A Saturday evening tri-tip dinner that includes live music by Chris Miller and Friends will be served at the airport for $17.
For more information log on to http://www.fathersdayflyin.com
The "Newsmaker of the Day" is heard every weekday morning on AM 1450 KVML at 6:47, 7:47 and 8:47am.