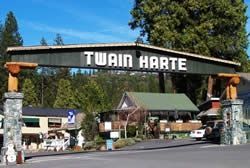 Twain Harte

View Photos
Twain Harte, CA — The search is over for a General Manager to take over the Twain Harte Community Services District (THCSD). Tom Trott is taking over the post. He went to grade school in Twain Harte and high school at Summerville. He has civil engineer degree from Cal Poly.
Twain Harte Community Services District Board President Jim Johnson says, "He's had experience in water and waste water which is important to us because we manage all of our water and waste management in Twain Harte. He's young, energetic and has some good new ideas."
Former GM Scot Moody resigned in April and today is his last day. Trott will start July 15th. THCSD serves 2,500 residents, has an annual budget of $3 million, and a paid staff of 14 employees.