Bullet Train Nears Construction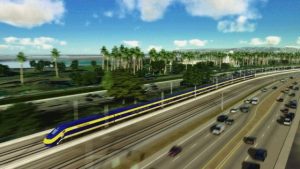 California High Speed Rail Artist Rendering

View Photos
Sacramento, CA — The California High Speed Rail Authority plans to award a contract today for the construction of the first phase of the state's bullet train.
The Board of Directors will vote whether to approve a $985 million contract with a group of builders based out of Southern California. A total of five bids were submitted, and the group's bid was the lowest by $100 million. However, the Associated Press reports that the consortium's bid received the lowest technical score for safety and design quality.
The $985 million contract would be for the first 29 miles of track in the Central Valley. Construction is now scheduled to begin by late summer. The California High Speed Rail Authority's meeting will be held in Sacramento.