Sierra Thunderstorms & Triple Digit Temps Ahead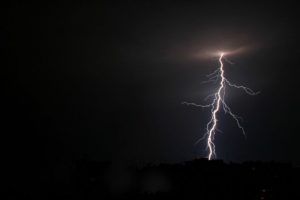 Lightning at night

View Photos
According to the National Weather Service, afternoon and evening showers will impact the Sierra Nevada each day through Thursday. There will also be a slight chance of thunderstorms along the crest of the Sierra on Friday afternoon and evening.
Small hail, cloud-to-ground lightning, gusty winds and locally heavy rain should be expected.
Hikers and campers should monitor the weather and seek shelter at once if threatening weather approaches. Lightning can strike several miles from the storm location. Remember; when thunder roars, get indoors.
Additionally, strong high pressure building across the region will result in very hot temperatures later this week, with record high temperatures likely on Friday and Saturday.
Daytime high temperatures will be fifteen to twenty-five degrees above normal and will range from 100 to 110 in the central valley to the 80's and 90's in the upper Sierra Nevada.
Low temperatures will range from the fifties in the high Sierra to the mid seventies in the central valley.
Complete outdoor activities in the morning. Care should be taken to ensure that sensitive groups including the elderly and small children, limit their exposure to the heat.