Brown Proclaims June As LGBT Month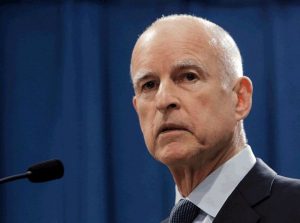 Jerry Brown

View Photos
Governor Jerry Brown was Tuesday's KVML "Newsmaker of the Day". Here are his words in proclaiming June as LGBT month:


"Our nation was founded on the principle of equal rights for all people, but the fulfillment of this promise has been long in coming for many Americans.

Some of the most inspiring moments in our history have arisen from the various civil rights movements that have brought one group after another from the margins to the mainstream of American society.

In the movement toward equal rights for lesbian, gay, bisexual and transgender (LGBT) people, a historic turning point occurred on June 28, 1969, in New York City, with the onset of the Stonewall Riots. During these riots, LGBT citizens rose up and resisted police harassment that arose out of discriminatory criminal laws that have since been declared unconstitutional.
In the four decades since, civil rights for LGBT people have grown substantially, and LGBT pride celebrations have taken place around the country every June to commemorate the beginning of the Stonewall Riots.

This month, we anticipate the decisions of the United States Supreme Court in Hollingsworth v. Perry and United States v. Windsor, two important cases concerning the marriage rights of same-sex couples. The high court's consideration of these matters represents both the progress our society has made in extending the full rights of citizenship to LGBT people and the barriers that still remain to achieving full equality.
As we await the outcomes, we should contemplate the importance of treating all people fairly and equally, so that all may live with dignity and pride."
The "Newsmaker of the Day" is heard every weekday morning on AM 1450 KVML at 6:47, 7:47 and 8:47am.