Sonora Planning Commission To Review Self Storage Proposal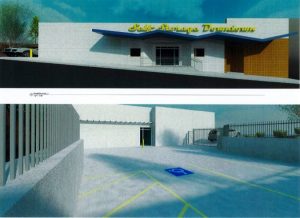 Proposed Downtown Storage

View Photos
Sonora, CA — The Sonora Planning Commission will vote on issuing a use permit so that the former downtown bowling alley can be utilized for indoor self-storage.
The property is situated at 19 and 27 South Stewart Street, and the listed applicant is Joe Pluim of Plum Construction. Due to the limited parking in the area, a small lot would be constructed on the adjacent parcel next to the bowling alley with two regular spots and one handicap accessible spot. Meeting documents prepared by city staff note that the project is consistent with existing zoning and the general plan. The former bowling alley building is 15,000 sq. ft. Some of the conditions of the permit include removing an existing fuel tank from the site and coordinating with the Sonora Fire Department and TUD to ensure that adequate fire flow capacity is available at the site.
The project will be reviewed during a public hearing scheduled for 5:30pm, Monday, April 8, at Sonora City Hall.