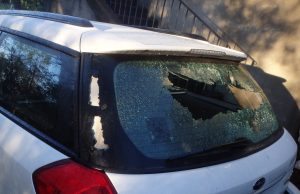 Broken vehicle window

View Photos
Sonora, CA – Imaging the scare of suddenly being awoken by the thud of something hitting your home in the middle of the night.
That has been the ongoing nightmare for some residents in downtown Sonora, prompting police to reach out to the public for help. A rash of complaints have come into police dispatch over the past several months reporting damage to homes and vehicles along Lyons Street.
Officers investigating the incidents have found evidence left behind by the vandals that include broken windows and dented vehicles. They have also located the vandals' weapon of choice in some of the yards and even a trunk – it's golf balls.
Stating that it is an "ongoing issue," police believe the golf ball bandits could be doing "drive-bys," meaning they are throwing the spheres from a passing vehicle.
If anyone has witnessed, knows or has information regarding the golf ball vandals they are asked to please contact the Sonora Police Department at 209-532-8141.