Legally Blonde: The Musical, In Angels Camp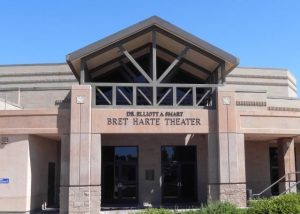 Bret Harte Theater

View Photos
The Bret Harte High School Drama Department presents Legally Blonde: The Musical, tonight through Saturday inside of the Bret Harte Theater in Angels Camp.
Grover Anderson, Bret Harte High School Drama Teacher, was Thursday's KVML "Newsmaker of the Day".
Anderson graduated Bret Hart in 2004. According to Anderson, "I never anticipated coming back to the high school as a teacher, but three years ago I was commuting from Calaveras to the Bay Area for work. The Drama teacher at the time told me that he was leaving at the end of the year, so I applied for the job."
The job has been an enjoyable one for Anderson, who is also well known in the overall region as a singer, songwriter and musician.
Anderson is looking forward to showcasing the play that his group of talented drama department students will put on tonight through Saturday.
"Legally Blonde: The Musical" is based on the now eighteen year old film feature film, which starred Reese Witherspoon. However, for the purposes of the musical, several liberties to the film have been taken.
This play has become a popular one for high school productions because it contains almost all of the elements that both students and audiences enjoy. This particular play has singing, comedy and great characters. Sonora High School presented this same play about one month ago.
One cautionary note: Just like the movie, this theatrical play is rated PG 13.
The show runs tonight, Friday and Saturday at 7 PM. There is also one Saturday matinee show at 2 PM. Adults $10, Students & Seniors $5. 4 shows, including a Saturday matinee.
Tickets are available at the door or online at https://legallybh.brownpapertickets.com
The "Newsmaker of the Day" is heard every weekday morning at 6:45, 7:45 and 8:45 on AM 1450 and FM 102.7 KVML.