McClintock Speaks Out Against Credit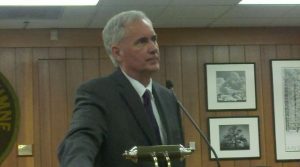 Congressman Tom McClintock at Sonora town hall meeting

View Photos
Washington, D.C. — Congressman Tom McClintock's Full Faith and Credit Act may have passed, but he has some strong words for Congress, specifically Democrats.
Congressman McClintock's bill, H.R. 807, passed on May 9th with 221 votes in favor and 207 against. His remarks from the House floor debate are posted in his blog "Full Faith and Credit Act" here.
McClintock notes that it is; "imperative that credit markets are supremely confident that their loans to the United States are secure." He goes on to refute arguments Democrats made against his bill calling some issues "utter nonsense".
McClintock states his bill; "simply guarantees the sovereign debt of the United States Government will be paid in full and on time, under any circumstances — even total political gridlock — and it allows the Treasury Secretary to exceed the debt limit if necessary in order to do so."
To read more about Congressman McClintock's objections to credit and spending limits view the blog "Full Faith and Credit Act" here.