Pursuit Ends With Driver Calling Dispatch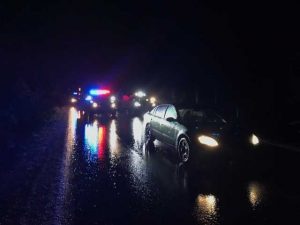 Soja arrest scene on HWY 108 in the Cold Springs area

View Photos
Jamestown, CA – An Angels Camp man led law enforcement on a 26 mile chase from Jamestown to Cold Springs and only pulled over after calling dispatch for help.
The pursuit began Monday night when a Nissan Altima drove by without its headlights on and a Tuolumne County Deputy tried to pull the sedan over on Highway 108 at the Rawhide Road intersection in Jamestown. Instead the driver, 41-year-old parolee Frank Soja, who was on a suspended license and wanted for assault with a deadly weapon took off heading east on the highway.
In a surprising move, Soja called 911, as sheriff's spokesperson Sgt. Andrea Benson recounts, "She [the dispatcher] said that it seemed he was panicking. She tried to calm him and reassure him that he would be okay and that no one would hurt him." Benson continued, "Soja is a military vet. The dispatcher let him know that the sergeant behind him was also. She told him he could talk with him and help him, but he needed to pull over. Soja was then able to calm down and pull his vehicle over."
Due to the pouring rain, the pursuit only reached a top speed of about 50 mph, notes Sgt. Benson, who added that Soja was also driving erratically and crossed over into the oncoming traffic lane several times during the chase. He was arrested for driving on a suspended license, assault with a deadly weapon, parole violation and evading.