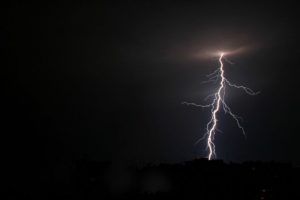 Lightning at night

View Photos
According to the National Weather Service, there is a chance of thunderstorms through this evening over the Sierra Nevada.

There will be an increased chance for thunderstorms over the Sierra Nevada through 9 PM this evening. The main threats within any occurring thunderstorm will be lightning, brief heavy downpours, gusty winds and possibly small hail.
Stay vigilant for sudden changes in the weather and approaching thunderstorms. If thunderstorms approach, seek sturdy shelter. When thunder roars go indoors.
For the latest mountain road conditions, click on /traffic