Man Arrested After Threatening Violence, Fighting Deputies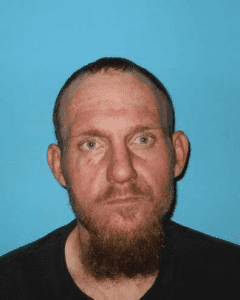 Michael Ball, Jr. TCSO Booking Photo

View Photos
Sonora, CA — A local man with prior weapons violations and wanted on an out-of-state warrant wound up in jail on a $150,000 bond after an altercation involving a business and an arresting deputy.
Tuolumne County Sheriff's spokesperson Sgt. Andrea Benson recounts deputies responded to a report of a fight at Affordable Towing on Highway 108 in Sonora on Friday evening. After being told to leave the property, Sonora resident Michael Ball, Jr., 33, reportedly created a disturbance by pushing his way past an employee and knocking him to the ground several times. A records check revealed the weapons violations and an outstanding warrant out of Idaho on Ball.
Sgt. Benson reports that Ball refused to cooperate with responding deputies, yelling at them, and taking a fighting stance ahead of a pat down search. She adds that he attempted to punch and fight the deputies and at one point grabbed at a deputy's duty belt but the deputy was able to keep Ball from touching his firearm and after several minutes successfully restrained the suspect.
Deputies subsequently found a knife in Ball's pocket and a hypodermic needle hidden in his sock. He was arrested and booked into the Tuolumne County Jail for resisting arrest, criminal threats, battery, and possession of drug paraphernalia.