Suspicious Pair Arrested After Parking Lot Pull Over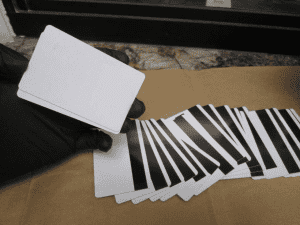 Knight-Sephorghan arrest evidence photo TCSO Mar 31 2019

View Photos
Sonora, CA — A vehicle that made a suspicious, early hours stop in the parking lot of a local business triggered a pair of arrests on numerous charges.
According to Tuolumne County Sheriff's spokesperson Sgt. Andrea Benson, around 2 a.m. Sunday morning, a deputy pulled in behind a white Chevy truck that cruised into the parking lot of Edward Jones Investments on Sanguinetti Road.
The male in the vehicle, 32-year-old Mathieu Sephorghan of Turlock, was on searchable probation for theft, identity theft, and controlled substance-related crimes. The female, 32-year-old Savannah Knight, also of Turlock, provided deputies with a false name during the vehicle stop and was later identified by fingerprint analysis at Tuolumne County Jail.
A subsequent vehicle search turned up methamphetamine, heroin, syringes, plastic baggies, and a card reader/writer along with numerous credit cards, EBT cards, casino cards and a college ID card. Searchers also located a large amount of clothing with sales tags still attached.
While an investigation continues, Knight currently faces a felony charge of false impersonation. Sephorghan was charged with violation of probation. Both were also charged with several misdemeanor drug-related offenses.