$15.3 Million Yosemite Gift Will Fund Over Four Dozen Projects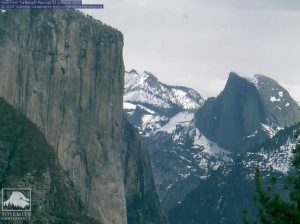 Yosemite Conservancy El Capitan Webcam image April 1 2019

View Photo
Yosemite National Park, CA — Nearly 50 programs are set to receive funding from the latest multi-million-dollar Yosemite Conservancy grant park officials say.
On Monday, representatives for the nonprofit and Yosemite National Park issued a joint statement announcing that Yosemite Conservancy is providing $15.3 million in 2019 to support wildlife protection, habitat restoration and improve visitors' experiences. To date, Yosemite Conservancy has provided $125 million in grants to the park for more than 640 completed projects.
This latest financial infusion will fund numerous endeavors at Yosemite. Among those relating to wildlife are those focusing on studying and protecting the rare Sierra Nevada red fox and bighorn sheep as well as peregrine falcons and bats. Habitat work will involve wetlands rehabilitation in Yosemite Valley and Tuolumne Meadows. Educational and cultural grants supporting the popular Ask a Climber program, Junior Rangers and other youth programs are targeted to enhance visitor participation and enjoyment.
"With four million visitors each year, Yosemite needs to be nurtured to remain a national treasure," states Yosemite Conservancy President Frank Dean. "Restoring trails and habitat, protecting vulnerable wildlife and inspiring people to take care of the natural world are a few examples of how donor support protects the park and enriches lives."
"The power and benefit of philanthropy is undeniable to nature and park visitors," says Park Superintendent Michael Reynolds. He notes that the restoration of the Mariposa Grove of Giant Sequoias, completed last year with Yosemite Conservancy's financial support, is essential in enabling the park to preserve its natural and cultural resources for current and future visitors.
Yosemite Conservancy, which operates online and park-located bookstores to help fund essential work within Yosemite, provides park information for visitors at popular locations; helps backpackers rent bear-proof food canisters and reserve backcountry hiking permits; supports guided Outdoor Adventures and Ostrander ski hut; it also funds art and theater programs; El Capitan, Half Dome, High Sierra and Yosemite Falls webcams. For more detail, click here.