Calaveras Sheriff's Office ID's Victim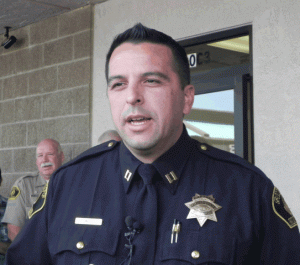 Jim Macedo

View Photos
Valley Springs, CA — There will be extra enforcement around schools in Calaveras County Monday as the Sheriff's Office continues an investigation into the murder of an eight-year-old.
Captain Jim Macedo with the Sheriff's Office identified the victim this afternoon as Leila Fowler. She was killed at her home on Saturday along Rippon Road in the Rancho Calaveras region near Valley Springs. "Search teams of uniformed and plain clothed officers are conducting wide spread searches and following up on progress, tips and leads," says Macedo. "At this point there is no specific suspect."
Macedo encourages the community to contact the tip line at 209-754-6030 with any information. The incident has resulted in many residents being on high alert in the Valley Springs region, and officials are taking extra precautions.
"The Calaveras County Sheriff's Office will have a visible and increased presence at both the schools and bus stops on Monday," added Macedo.
Fowler's 12-year-old brother was in the home when she was killed, and he reportedly chased off the male intruder. The boy returned home to find his sister injured, possibly from stab wounds. She later died at a nearby hospital. Captain Macedo said the 12-year old is not considered a suspect in his sister's death. Macedo says the parents were attending a community event when the incident occurred.
Macedo points out that they have taken fingerprints and DNA from the crime scene. He says that tips have come in from other counties, so different law enforcement agencies are involved with the investigation. Those agencies include the Angels Camp PD, San Joaquin County Sheriff's Office, Amador County Sheriff's Office, Tuolumne County Sheriff's Office, CHP and the California Department of Justice. The FBI has also been notified.
The Sheriff's Office has stated that the suspect is described as a white or Hispanic male, with longer gray hair, six foot tall, muscular build, and was last seen wearing a black long sleeved shirt and blue pants.
Meanwhile, Calaveras Unified Superintendent of Schools Mark Campbell has released the following statement for parents concerned about sending students to school on Monday:
Our hearts and thoughts are with the Fowler family and we are ready to provide whatever support we can to the parents and siblings now and in the future.
As we all grapple with the tragic and senseless loss of one of our own, we do so knowing that we will be ready to do what is necessary to provide a safe environment for students and for staff, and to stand unified and strong as we provide whatever level of support and assistance that is necessary to help the family, our students, our parents and our staff process the unthinkable.
That said, for Monday, please know that…
• All school sites will be open
• There will be counselors and support staff ready at Jenny Lind Elementary, Toyon Middle School and Calaveras High School (to whatever degree is necessary based upon need)
• There will be an increased level of law enforcement presence, specifically in/around Jenny Lind Elementary and applicable bus stops
• An automated phone call will be sent later today to communicate this information to students and parents as well
• Given the nature of the incident, and that the alleged assailant remains at-large, there will still exist significant uncertainty and concern amongst all stakeholders. We need to remind and reinforce that we will do whatever is necessary to protect (physically, psychologically, etc.) all who are present in our schools. Our schools are, and will be, safe and secure for all.
• The support will continue for all involved as we navigate the days to come
We all will do what is necessary to help all involved to acknowledge and grieve the loss, access whatever support/assistance is needed and we will make sure that we provide a safe place for all and whatever degree of operational normalcy is necessary ongoing.
The great people within CUSD have always risen to the challenges of sad and tragic situations to be strong and present for their kids, for parents and for each other. Sadly, we are required to do so again, and I have full faith in our capacity to handle this.