Local Health Matters And New Scholarships Fund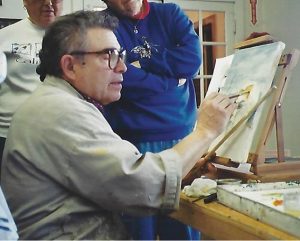 Gereon Rios photograph. Unknown photographer. Unknown date. Image courtesy of Eon Rios. Email. 7 March 2019.

View Photos
Executive Director of the Sonora Area Foundation, Darrell Slocum, shares updates on the Foundation's Senior Family Forum focused on Health Matters and a new memorial scholarship.
The Lineup is set for a Senior Family Forum focused on Health Matters. Slocum invites the community to attend and bring a friend. Slocum says "We have been extremely fortunate to have outstanding speakers at previous forums and it appears we will once again." He also notes you don't have to be a senior to benefit, speakers will provide valuable information, tips and resources related to healthcare, insurance, and more. The community event is free and reservations are not required. However, Slocum says, "it's helpful to have an estimate of attendees and your response would be appreciated. Please call with any questions or to let us know you will be attending (it will make our day!)."
Check out Slocum's blog with details about each speaker at the Senior family Forum on May 15 here.
In addition to planning the Senior Family Forum and other projects Slocum notes that many local high school seniors are transitioning from the college application season and starting to consider acceptance letters and apply for scholarships. He shares that some Sonora High graduates are honoring the memory of their father by opening a memorial scholarship in his name. The new Gereon Rios Memorial Scholarship Fund is in honor of Rios who taught art at Columbia College and established and taught at the Sonora Academy of Fine Arts until his retirement in 2011. Rios also created two public sculptures in Sonora: the bronze Vietnam Veterans Memorial at the Tuolumne County Library's main branch and the Veterans Memorial at the U.S. Department of Veterans Affairs clinic. More details about Rios and his sons are in Slocum's newest blog here.