Sheriff's Office Makes Drug Bust In Columbia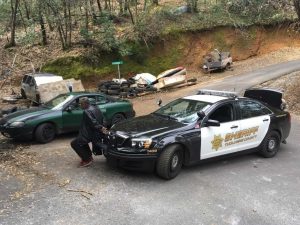 Drug Arrest On Quail Mine Road

View Photos
Columbia, CA — 27 grams of methamphetamine were confiscated during a traffic stop in Columbia, and one of the men inside now faces a list of charges.
The Tuolumne County Sheriff's Office reports that a Ford coupe was pulled over along Quail Mine Road because the car had expired registration tags. After the meth was located, the alleged dealer, 51-year-old Irving Gallego of Columbia was placed under arrest. In addition to being charged with possessing and transporting methamphetamine for sale, he was charged with committing a felony while being out on bail for a prior drug sales arrest.
In addition, his passenger, 53-year-old Paul Saldana of Stockton, was arrested for possessing a glass pipe used to smoke methamphetamine.